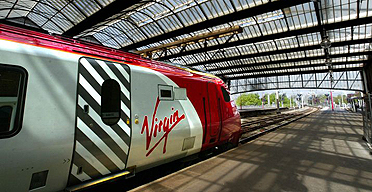 We don't
get out much round here, so when I had to go
to London for a meeting the other day, it was an event. Not least when I found out that travelling with an executive level colleague meant we got to go

First Class

- I have never travelled First Class before, in fact I don't think I've ever done anything First Class before!

Picking up the menu from the nicely laid table my executive colleague asked,
"What are you having for breakfast?",
I replied,
"I'll probably just get an egg McMuffin or summat when we get there, it's bound to be dear on the train."
"No, silly" she said, "It's all included."

But even then it took a short interrogation of the waitress before
me and my other non-executive, yokel colleague actually believed it; and then in a style that truly betrayed our class, we continued:

"Right then, we'll have one of everything"
And then in an aside, my fellow yokel added,
"And I'll be taking some stuff for the kids too..."

What a lovely way to travel, well done Virgin Trains. The journey from Manchester to Euston took just two hours. The new Pendolino train was fast and smooth, the first class service was, well, first class: free food, free paper and as much lovely coffee as you wanted (and before you say it,

yes I know it's not free really

, but it felt it because work was paying!)

Anyway, if I was self employed, I'd certainly consider it worth paying, if only because at the end of the journey we didn't feel like you'd actually travelled all that way.

We were fresh and rested, ready to do business - and that's what we did, partly thanks to Mr Branson and his posh train.